A healthier, cleaner lifestyle
" By converting water into ROS, we have finally found the most effective and safest disinfection method. "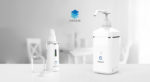 Eleclean is dedicated to creating innovative products that will contribute to creating a safe and sustainable planet.


We began with the initiative of creating disinfection and sterilisation solutions that are not only effective but also safe and friendly to human bodies and our environments. We've been and are actively taking part in contributing to the society's sustainable and balanced development for today, and the future.
We're a start-up company specialising in innovative sanitisation technologies.
Prior to our founding in Taiwan back in 2016, we've been working with water treatment technologies for several years. By chance, we've had several humanitarian missions through Red Cross in less developed or disaster-stricken areas to provide disaster-relief and environmental clean-up tasks. We saw the lack of an effective solution for maintaining personal and environmental hygiene that is more accessible and friendly to our health and the planet.
We've found an innovative way to transform water into a chemical-free disinfectant. Therefore, we've created the world's first-ever portable sterilising device that can eliminate 99% of bacteria and viruses and yet, is 100% safe to the human body and friendly to our environment. While the principle behind the conversion of water into Reactive Oxygen Species (ROS) appeared simple enough, it is the culmination of six years of dedicated hard work.
The Eleclean Solutions.
Infinite Possibilities.
For the general consumers, most disinfectant sprays and wipes available on the Australian market are either based on hypochlorous acid (e.g. bleaches) or alcohols. Although they are strong enough to kill most kinds of disease-causing microorganisms and inexpensive to mass produce, they can be harmful to humans (rashes, inflammations, skin allergies and other health concerns), animals, and the environment if misused.
Additionally, those common chemical-based disinfectants are not always applicable in some cases. Infants, for example, could accidentally come in contact with chemical disinfectants and get poisoned or result in discomfort.
Given the potential dangers and impracticalities of the above, we took our design back to the basics – simply water, which enabled our products to enjoy much wider use cases and applications than most traditional disinfectant and sanitising solutions in the general consumer market.
The possibilities of our technology could be infinite.
Currently, Eleclean's Portable Disinfectant Device is the only device in existence that transforms water into Reactive Oxygen Species (ROS) disinfectant for personal and household applications. Going forward, such technology can be scaled up to support various industrial and commercial applications (e.g. disinfection and sterilisation equipment for factories, care homes, livestock farms, and biotechnology research centres).
The introduction of Eleclean 360 Intelligent Disinfectant Station (mid-2020) which is capable of performing services full-body disinfection to over 25,000 people with over 90% success rate against viruses and other harmful pathogens is a demonstration of our capability and vision.
The disinfectant station has recently been deployed and tested at several public areas such as the National Library of Public Information of Taiwan and National Geographic Run-50th Anniversary of Earth Day, as well as some health clinic and fitness centres, ensuring a comprehensively safe and clean environment for visitors.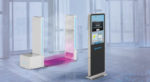 All clean, safety, for your life
Core Values
34 international patents
Advanced Eleclean Technology
The principle behind Reactive Oxygen Species (ROS) is the electrolysis of water ions that produce oxidizing agents such as hydroxyl radical, superoxide radical, and hydrogen peroxide. These substances are highly reactive and will destroy the protein structures of viruses and bacteria upon contact.
After these oxidizing agents have attacked the biological targets and completed their chemical reactions, they will transform back into harmless water or oxygen molecules.